Treasures of Historic Occoquan
Below are articles and awards featuring the rare unique treasures that can only be found in Historic Occoquan
Articles
Awards
---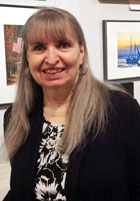 by Jane Ernst, artist of the Artists' Undertaking Gallery
March 2018
Background Story:
Occoquan's first "Art on the Block" was held on November 12, 2011, and because of its great success, it was held twice a year on Mother's Day weekend in May and on Veterans Day weekend in November. "We wanted to help make Occoquan a destination place for art lovers," said Jane Ernst of the Artists' Undertaking Gallery, who along with her husband, David, established the first event and continued coordinating the "Art on the Block" up until May 2015. Occoquan has in its galleries over 60 talented local artists. In addition to the artwork in the galleries, Occoquan has many eclectic shops offering the visitor many unique items not found in your local chain stores. "Our little community is one of those hidden jewels waiting to be discovered, and then revisited often."
In 2015, Danielle Rush, owner of Red Art & Design took over the coordination of the activities for the "Art on the Block." The event is now held every May on the day before Mother's Day.
This Year's Event:
Art on the Block is once again being coordinated by Jane Ernst, since Danielle will soon be leaving the area. "This year I've decided to think outside of the box and have more Occoquan merchants participating in the event. These merchants will be showcasing the arts in their shops, along with the Occoquan galleries who showcase over 60 local artists. Occoquan has so much to offer those who visit this tiny river community," said Jane.
On Saturday, May 12, from 11:00 a.m. to 4:00 p.m., fourteen local merchants will be participating in Art on the Block, welcoming everyone to visit them in Occoquan and to enjoy their creative endeavors. Many artists will be available to discuss their work, answer questions, and some will be demonstrating their talents. Each shop will have a reception, with some having special drawings for prizes.
Everyone visiting will have the opportunity to register to win an Occoquan Gift Basket.
The merchants who will be participating are:
---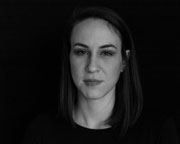 by Kalen Martin-Gross, Freelance Writer
February 2018
Kalen is also a talented photographer.
You can see her photography portfolio at:
KDMGPhotography
For an honest 42 years, LaVerne Carson and Pat Bowen owned and operated the Golden Goose in downtown Occoquan. When they opened for business in March 1976, the two women never imagined the impact that their retail store would have upon the town and the surrounding communities. At that time, Occoquan boasted 28 retail shops; and during the four decades in operation, the Golden Goose watched the town's businesses diversify and retail shops more than double in number. Through long hours and perseverance, knee replacements and heart attacks, LaVerne and Pat established themselves as a cornerstone of retail in Occoquan.
When asked about what she will miss the most about the Golden Goose after it closes on February 28, co-owner LaVerne Carson thought for a moment before replying, "The customers." She then broke out into a genuine smile and gestured to the counter on which resides the beautifully ornate cash register, "Why do you think we used that antique cash register? Or handwrote every ticket? Because it allowed time for conversation; people are hungry for conversation."
For the ladies behind the Golden Goose, the customers and conversations were always the priority. LaVerne chalks up her business acumen to being raised in a grocery store: "It's in my blood, I suppose." While the two women admit that running the business required a great deal of hard work and determination, it was also a fun and challenging experience that brought much them much success. LaVerne explained that the hard work paid off for the two in 1990 when she was elected mayor of Occoquan and the shop won the prestigious Retail Merchant of the Year Award from the Retail Merchant Association. "That was a big year for us," LaVerne proudly reminisced.
News of LaVerne and Pat's retirement is bringing many people back into the store to say their goodbyes, share Christmas traditions, and future well wishes. The Golden Goose's perpetual Christmas played a pivotal role in creating many family traditions in Occoquan and Northern Virginia. "It's been such a sweet experience," LaVerne remarked about receiving so many nice comments. "We never knew how much our store meant to everyone." However, it must be noted that there is one customer who is decidedly unhappy with the closing of the Golden Goose. LaVerne recounted that one day recently a family with a little girl entered the store for one more visit. In the middle of conversation with the family, the little girl looked up at LaVerne, placed her hands on her hips, and said: "You've ruined my Christmas!"
"And she meant it, too!" laughed LaVerne.
With only a couple of weeks remaining in the month of February, the Golden Goose is nearing its end; and with that, the closing of an era. LaVerne and Pat gave of themselves for four decades, most of that time devoted to the customer and to the community, cultivating a sense of belonging for those who entered the store. The Town of Occoquan will greatly miss its' matriarchs of retail, though they have rightly earned this retirement. So, before the closing of the Golden Goose on February 28, be sure to stop by the store and give the ladies one more conversation.
Historic Occoquan thanks LaVerene Carson and Pat Bowen for their many years of service to the town and we congratulate them on their success.
---
Where Everybody Knows Your Name - Lyrics by Gary Portnoy and Judy Hart Angelo
Making your way in the world today takes everything you've got.
Taking a break from all your worries, sure would help a lot.
Wouldn't you like to get away?
Sometimes you want to go
Where everybody knows your name, and they're always glad you came.
You wanna be where you can see, our troubles are all the same
You wanna be where everybody knows your name.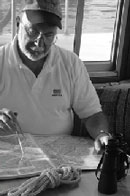 by Leo Smith,
July 2016
Let's go back in time just a bit. Through the looking glass of Einstein's space-time warping, I want to take you to a kindler, gentler time in a place well remembered by those who gathered here.
Any day about mid-morning the coffee's on and the tables are filling up. Local patrons meander in to wake up, greet the day. greet each other or salute the visiting traveler as they pass through the little Town on the Occoquan River. A small settlement at the edge of the navigable waters of the Occoquan River sits a Town with the same name – Occoquan, or more appropriately named Historic Occoquan. And, here in The Coffee House of Occoquan, one can find a "Cheers-like gathering on most mornings.
Locals frequent the place to share their experiences, discuss their politics, (local and partisan) but as Former Speaker of the House, Tip O'Neil said, "All politics is local!" Occoquan has its own local politics, too. The Town Council, Planning Commission, Architectural Review Board, Public Works and Town Sergeant, make up the basis for the own government. Now with Prince William County government also influencing the Town, we have more government than we need and that provides lot of topic to discuss.
A few years back, the Council changed the direction of the traffic flow through the Town. Oh, my, wasn't that a frightful experience, cites Linda Caldwell. Linda owns and operates the Coffee House of Occoquan. It's immediately in front of her shop that the traffic has to divide and may not continue forward into Commerce street because Commerce street is now One-Way the opposite way. Well do not enter signs did not immediately catch the eyes of the "cut-through" traffic. You can imagine the consternation of two drivers facing each other head on – both wondering what to do now!
Oh, eventually, this change did well to help by adding more parking spaces – the lack of which caused the dilemma to start with.
On any given morning Linda will serve coffee to passers-by who leave I- 95 to visit the Town. They may be from as far away as Canada on their way to Florida, or heading north from the Carolinas or Tennessee traveling home to New York or Connecticut. For this tiny Town of approximately 900 residents, we seem to me pretty cosmopolitan. And The Coffee House of Occoquan is at the first corner in Town that every visitor sees "head on at the intersection of Commerce Street, Occoquan Rd and Washington Street.
And oh, so many nights' local musicians come to entertain throughout the summer and down in the Fall. Music of many styles, songs of many peoples, guitars, pipes, fiddles and drums zithers or the tinny sound of the mountain -------, and the words of poets and dreamers – the nights are filled with excitement and Linda serves coffee and hot chocolate, cake and sweets. You can't find this lifestyle in many places now. It's a memory out of the long gone past rekindled in the near time passed but in the memories of the faithful, here and now.
Life in a little town evolves around the folks who congregate in places like Linda's. Decisions by council get reviewed, rehashed and ridiculed by supporters and defenders and objectors alike. And, frequently to little avail either pro or con. But. They are the thread and the yarn that spins the whole cloth of the Towns citizenry.
The characters in this daily play are none the less notable than those of Cheers, the show upon which I base this article. There's Bry, the stalwart proponent and supporter of the shops, shop keeper and business owners of Occoquan. His Website, HistoricOccoquan.com is an outstanding example of web use to promote the Town of Occoquan. Others have developed sites and many have faded away. New sites are being developed by others who think they will do better, but HistoricOccoquan.com is professionally managed and produced at a very high level of service to the Town, its businesses and those who want to know more about the Town.
Gene, our resident artist who has done many paintings of the Towns historic buildings, sites, river front venues and parks stops in to pass the time of day and have a taste of Linda's coffee and a flavor of the politics of the day. Francie brings a breadth of fresh air as she slides into a comfortable chair at the table. She purports the values of healthy eating and exudes the composure of intellectual grace as she passes a few minutes' pause at the Coffee House. The local news paper, the Lorton Star's editor, Lloyd, passes through and in his Scottish Kilt and (knee highs) delivers the weeks pack of "hot off the press" papers, stops for coffee and looks for newsy items and authors for the ensuing publications. Susan, Always in a rush, has a few minutes to share news about the recent experiences from last night at the local pubs or meeting houses, and we have our intellectuals who will engage in any topic from Star Wars, Einstein, Newton, Galileo or Dr. Who, Star Trek, or Ancient Astronauts.
We have our poets, our paupers, a prince and a king but they don't all show up at the same time. There are historians, only because they are part of the families that trace their origins to days of ice skating on the river and sledding down Tanyard hill. "Oh what a sleigh ride." said Miss Lorraine. The ride was down the hill to the bottom and directly out onto the river. That is a distance of more than a quarter mile with lots of twists and curves. Growing up as a kid in this town, was a wonderful experience as she remembers it. Swimming in the Mullet Hole, just up river from the Museum that used to be the Millers House at the old Grist Mill.
Mr. Dawson, presiding curmudgeon and keeper of the history's memoirs, these days, was born in Town. His boyhood home was just across Occoquan Rd from the Coffee House of Occoquan. Long ago torn down and replaced by the new and improved, Mom's Apple Pie and the high house behind it. Mr. Dawson still lives in the Town, just a few buildings down Commerce Street.
There are many who move in the Town who never asked to be remembered, or never tried their hand at joining the outspoken and may never want their name in lights (or on these pages) and they will remain anonymous. But, that they lived and passed through the turning of the ages here among the keepers of the culture, we can be thankful for their indulgence and their concern for all things Occoquan. Linda, thanks for your considerable contributions to a wonderful little part of history in Occoquan. What you have done is another reason we call our town, Historic Occoquan.
---
2016 Candidate for Town Council of the Town of Occoquan
by Bryan Reese
CEO of BAR-3 Enterprises LLC & the webmaster of HistoricOccoquan.com
29 April 2016
Webmaster's Note:
Several candidates running for positions in the Town of Occoquan election on May 3, 2016 were contacted. Some have responded and some have not. Mr. Vonderheide was kind enough to offered his time and participated in this interview. If you are a candidate running for a position in the upcoming election and would also like to be interviewed, please contact the webmaster.
The interview with Mr. Vonderheide consisted of 7 questions. Below are the question from the webmaster and the answers from Mr. Torres.
1.) Why are you running for town Council?
To try to help the town; simple answer. I want to improve the communication between the property owners, the residents, and the leadership in town. I want to make a difference.
2.) What are your qualifications for the position?
I have over 20 years of project management, organization, and engineering experience. Experience that indicate to me the need to add some basic processes that would improve upon the town's current decision making process.
3.) What are your feelings about the property purchased on Tanyard Hill by a previous administration?
At the time of that purchase they were also looking at the strategic development plan. So on one hand they were saying that they wanted to develop Historic Occoquan, but they wanted to prevent the development up on Tanyard Hill. It is my understanding that a business wanted to go in there. It would have added to the traffic congestion going through town. So from my perspective, it is a good thing that it didn't happen simply because of the safety issue to the residents in town.
There is supposed to be a trail from there down to here in town, and be part of the cross county trail system. However, I have not seen any movement, further development, or any progress since the purchase.
4.) How would you improve the Occoquan Craft Show?
Everything can be improved, no matter how good it is. One thought is, do we need two craft shows? Would there be any benefit or be any value added if we made one more of a music festival or historic festival or a little different spin on it. So we need to look at it how we can enhance it with other features besides just pure crafts. The quality of some of the crafts have gone downhill and the we've gotten a lot more commercial tents than we've had in the past.
Looking at how we can improve the craft show with new features in addition to crafts is something to be considered, or consider a different kind of show. We don't want to reinvent the wheel and we do count on that revenue. There should be some trending data that can tells us what has worked and what has not that we should review. These are some of the things that I consider could help us to improve the show.
5.) How would you improve the communication between Town Hall and the residents, property owners, and businesses in town?
That is the trick question and that is one of my key objectives. I've heard from property owners and businesses that they just feel that the current town leaders don't communicate effectively. I think that they seem to rely exclusively on the newsletter. Granted that they aren't full time and have careers outside of their positions. However, there just seems to be no effort at human interaction with the business owners or the property owners. I don't think that public hearings are the answer. I'm not sure what would be most effective. Public events might help. But you need to have the desire to try in order to improve the communication and I have that desire.
6.) Do you feel that the town is entitled to own the HistoricOccoquan.com website or the OccoquanCraftShow.com websites?
Entitled is my key word there. No. They are not entitled to own anything that someone else purchased. The fact that it's helping the town should be enough of a benefit to the town and as long as that relationship stays amenable both benefit from each other.
7.) Our taxes have been ever increasing. Do you see a need for this or do you have plans that would allow taxes to decrease?
I don't have plans to decrease taxes effectively as I have not analyzed the numbers. I am concerned that they have increased without any substantial benefit to the town. I am concerned about the spending. Improving the craft show and quality of the craft show would help out as the second show was added years ago to help alleviate the tax burden.
---
2016 Candidate for Mayor of the Town of Occoquan
by Bryan Reese
CEO of BAR-3 Enterprises LLC & the webmaster of HistoricOccoquan.com
21 April 2016
Webmaster's Note:
Several candidates running for positions in the Town of Occoquan election on May 3, 2016 were contacted. Some have responded and some have not. Mr. Torres graciously offered his time and participated in this interview. If you are a candidate running for a position in the upcoming election and would also like to be interviewed, please contact the webmaster.
The interview with Mr. Torres consisted of 10 questions. Below are the question from the webmaster and the answers from Mr. Torres.
1.) Why are you running for mayor?
Over the last several years I've met with friends and residents in Occoquan and they do not know who our current mayor is, and have not seen her. I feel that communication is lacking and the people's voice is not being sought out or heard. The real issue is bringing the voice of the people back to town hall and to really concentrate on what the people want to see done and taking steps to get it done in a timely manner.
2.) What are your qualifications for the position?
I have qualifications by my education and by service in both the public and private sectors. Starting with my educational background, I have a bachelor's degree and master's degree in Public Administration with a concentration in Town Management. My education gives me a solid foundation to do well here.
I've also been successful in host of government positions and voluntary positions. I've served on a Planning Commission that I've done well with. I've been a state legislative aide that I've been very successful at. I've worked as a public defender investigator. I've also been a police officer and was awarded an Achievement Medal for my distinguished service.
In the private sector, I work in my family business, DC Trails, Inc. I've helped to build a successful company that has over 200 employees just a few miles from the Town of Occoquan which has benefited the local economy. The business is a charter and tour bus service that provides public and private tours and transportation within the Washington DC, Virginia, and Maryland areas.
3.) What do you feel distinguishes yourself from our current mayor who is running for re-election?
I think that the main thing that distinguishes me from the current mayor is my willingness to get out and get involved and to talk to the residents, not just for specific occasions but, every day. To really engage with them to understand the issues and hear their thoughts on issues and bring the questions to them, as opposed to expecting everything to happen in Town Hall. I think that if you want to know the answers and know what is going on in the town, you have to get out there and to talk to people. That is not just during election time, that is year round.
4.) What would you like to accomplish in your 2-year term?
I would like to address a host of issues that have been brought to my attention by talking to people over the last year. Issues that people have asked me to amplify and be their voice on and to bring attention to. Some of these issues we've had problems with and have been trying to fix for a long time most of these issues are mentioned in our comprehensive plan but now is the time to stop talking and writing about these issues and take action. Just to name a few:
the parking issue
bringing more business into town
monitoring where our tax dollars are going and making sure that they are being used appropriately
not raising the line on taxes.
In the private sector I've done well maintaining a budget for many years without needing to ask for additional money by figuring out how to make things work with what we have. These are the things that I want to concentrate on.
5.) What are your feelings about the property purchased on Tanyard Hill by a previous administration?
I understand why they purchased that property, they didn't want any more development or a chance for development to occur in that area. So, it's purchased and we have it now. I believe that they were looking toward the future and thinking about what could happen with that property if they did not purchase it, so I support that position.
6.) How would you improve the Occoquan Craft Show?
That is a very good question. I am not a craft show expert. So I think the most important thing that the town can do to improve the craft show is to hire the right person to manage the craft show and to bring in the right people who understand developing and running a craft show to make it successful.
7.) How would you improve the communication between Town Hall and the residents, property owners, and businesses in town?
One thing that we can do that is not going to cost a lot of money is the utilization of websites. Websites such as yours. Websites that are trying to help to boost the town, but for some reason or another the town has not utilized to the fullest. I think that is one thing we can do that is not going to cost us anything. We should form a partnership with such sites and work together to get our name out there. It doesn't matter who is the owner of the website, if we are working together to advertise and promote our town that should be the number one focus. I think we can do that right off the bat and that would be a huge help to the town.
From Town Hall to the residents there is a newsletter and a phone line to the town. But I think ultimately that the council members and the mayor have to get out into town more. They have to be involved and be visible and they have to talk to people. Because people have busy lives too, and they're not always going to make it to Town Hall. There are ways that our representatives can be involved outside of town hall, and promote our town and get people more involved in what is going on. That will be a focus of mine as Mayor.
8.) Do you feel that the town is entitled to own the HistoricOccoquan.com website or the OccoquanCraftShow.com websites?
No.
9.) Do you feel that the town needs a Farmer's Market as the current administration does?
That's an interesting question. If you ask my grandparents, they love it when it's around. So that is a good question. I honestly don't know how many people are going out there and utilizing it. I've been by a few times. I really need to get more information from the residents.
10.) Our taxes have been ever increasing. Do you see a need for this or do you have plans that would allow taxes to decrease?
I don't think there's a way to decrease taxes at this point. I don't think any government is going to say that they could decrease a tax as good as that sounds. I think as I've pointed out with my experience in budgeting that we can definitely hold the line on taxes and not increase them. I think that holding the line on taxes is something we can do. I'm a big fan of zero based budgeting which basically means you just start at zero and you then build your budget every year. That way you can look at every line item and say are we getting the best deal with the trash pickup; are we getting the best deal with snow removal; are we getting the best with all these different things. That way you have a complete budget review every year.
I'm a fan of that kind of budgeting. So I think if you do that kind of budgeting you would be surprised at how much you can cut. Because you actually are going on a shoestring type budget and if we implement that view as we develop the budget, that as mayor I can hold the line on taxes and keep it where it is during my term.
---
Tuesday, October 27, 2015, Occoquan, VA
Historic Occoquan was one of the Virginia localities selected to submit a handcrafted ornament by the Governor for the 2015 Executive Mansion Christmas tree. The theme selected by the Governor for this special occasion is "Virginia's Localities."
The Occoquan Business Guild graciously accepted the task and commissioned local artist Vicky Somma to design an ornament that is representative of Occoquan's rich history. Somma was born and raised in Occoquan and in 2014 designed an ornament depicting the Library of Congress that was displayed on the Christmas tree in the East Wing of the White House. For the 2015 tree, Somma devoted her time and energy to designing the Mill House Museum, which was built in 1759 on 230 acres of the Occoquan River as a forge and gristmill by industrialist John Ballendine. In 1765 Thomas Ellicott took over operation and in the 1790's installed an invention that that made the mill, now called the Merchant Mill, the first automated gristmill in the United States.
The ornament is a 3-D model that is made of Gypsum powder and displays all brick and stone as well as the millstone that rests on the front of the building. The Governor's Executive Mansion Christmas tree will be on display from December 4 through the holidays.
For more information about the ornament, Ms. Somma or the Occoquan Guild, please contact, Laverne Carson at lavcarson@aol.com. She can also be reached at 703-494-4964.
---

by Kay Pietrewicz,
June 2015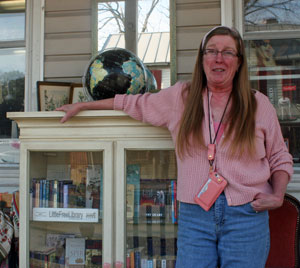 Several months ago I saw a piece on TV about Little Free Libraries. It's a movement where people put a box or shelves somewhere outside their home or business with books to share with the community. The motto of the organization is "take a book, return a book". The local community is encouraged to select a book or two to read and bring it back or others to be shared.
Debra Daube of Preservation Station has put up Occoquan's own Little Free Library on her porch at 204 Union Street. The Library consists of a bookshelf with glass doors. You are invited to stop by day or night to find some reading material. She would be very happy to receive donations of books for the library, particularly children's books. You can contact her at 571-572-2207 or stop by the shop.
So if you're walking along Union Street, why not stop by and check out the selection of books. Remember, the Little Free Library of Occoquan is "open" day or night!
For more information about the Little Free Library organization, check out their webpage at www.littlefreelibrary.org.
---
Hand-Woven, American-Made and Occoquan-Made Products

by Kay Pietrewicz,
November 2014
I was talking with an Occoquan resident the other day and I asked her if she had ever been in Spinaweb. Her response was no. She added, "That's the shop that sells yarn." I explained to her that the shop was actually a specialty weaving shop which sells products created from the hand-woven fabric made by the gifted weavers who work there. I, too, didn't appreciate Spinaweb until I paid them a visit.
I was frankly amazed by the quality and pricing of the items I saw in this unique shop. Hidden inside what looked like a residential house, I found on display beautiful hand-woven pieces and all AMERICAN MADE! The shelves were full of scarves, shawls and purses for women; blankets and hats for babies; placemats, rugs and table runners for the home; and for the Christmas shopper they have seasonal items such as Christmas stockings, bears and snowmen. The pricing was even more unbelievable. I'm used to paying $12 to $30 for placemats at the malls and specialty shops, but here they were only $7 each. "Even the Workhouse charges way more," said Debra Vermillion, the Manager of Spinaweb. "I would hold up the quality of our work against any of it. And ours is AMERICAN MADE!" Not only that, but it is OCCOQUAN MADE and "Made at Spinaweb" too.
People who find Spinaweb stay with Spinaweb and become Customers for Life. While you would think that only people in Occoquan know of Spinaweb, their customers include people far removed from our small town. Spinaweb ships its products all over the world. They frequently are filling special orders from England, Germany, France, and other European countries, as well as Australia and Japan. But they are looking to add a new generation of customers to its loyalists. "…What we're looking at is how we can reach a younger clientele."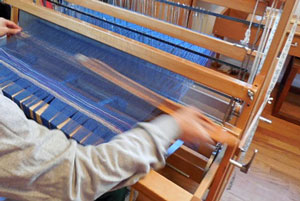 So if you are tired of the Chinese-made products offered at the mall and looking for quality, hand-woven gifts then you definitely need to stop in at Spinaweb. You will be pleasantly surprised. And remember they take special orders. Bring in your own yarn for a project, or you can clear out that "stash" of yarn you have had in your closet by donating it. I was fascinated while I was in their shop watching the weaver at work on the loom who was creating one of the fabrics that would be converted into another one of their skillfully hand-woven offerings. I stood there and watched her for a while. It's not very often you get to see the item you are about to buy being made right in front of you.
So how did this fantastic shop get started? Ms. Erna Gilker launched her brainchild, Spinaweb, on 305 Commerce Street back in 1982. Back then Occoquan was the same crafty little town as today but with much more foot traffic to the businesses lining Commerce Street. The shop then, as now, was operated by The ARC of Greater Prince William/INSIGHT which provides services to individuals with developmental disabilities and their families in the greater Prince William area.
As an ARC employee, Ms. Gilker recognized a need for something other than cleaning jobs for The ARC's adult vocational program. In her native Austria, she had seen that the disabled were encouraged to find productive work which gave them a sense of personal worth. It was not unique to have someone in a wheelchair delivering newspapers. Spinaweb reflects that viewpoint by providing opportunities for productive, meaningful and compensated work which adds to the participant's self-esteem. Because weaving is a routine, repetitive job, it is a good fit for the weavers.
The weavers who work there are intellectually challenged. Some of them also have physical disabilities, but the staff does not have the capability to take on anyone who has a medical problem that requires nursing. The weavers also have to feel comfortable having customers come in and out of the shop. The customers often want to observe them at work.
Spinaweb generally employs 10 weavers and can employ up to 11 or 12 according to need, but that would be their maximum. "The thing is that once someone starts working here, they never leave." Some of the weavers have been employed at the shop since Spinaweb opened over 30 years ago. There is little turnover.
Manager, Debra Vermillion, has a far more complex job than the average shop manager in managing the day-to-day operations. Debra has worked with the intellectually disabled for 30 years, and her responsibilities include training the weavers and supporting them in their work. Since most Spinaweb weavers are not able to pick out the right materials, she sets up the looms and guides them to do the weaving. She also handles the paperwork required by the county and federal government, the source of much of the funding. Another Staff member also supports the Weavers throughout the day and often takes them into the community on small outings. A seamstress comes in Fridays and Saturdays to transform the weavings into finished products. She also sews a "Made At Spinaweb" label on each product with the name of the weaver.
I asked Debra what lessons she has learned at Spinaweb? "No two days are alike." Referring to her weavers she added, "Once they're trained to do one thing it doesn't mean that tomorrow they will still be able to do it. The moment one little thing changes, they're not always able to translate skills." But, even after 30 years in Human Services, she still loves what she's doing. Referring to Occoquan, she said, "This is a perfect setting for this kind of shop because it is safe. Some of the weavers go get the mail every day, and some of them go out to lunch."
When I asked her what her greatest challenge was, Debra spoke about the lack of foot traffic. She said, "When the shop opened in 1982, Commerce Street was lined with busy merchants." The current challenge for merchants is that if people come into town, they might explore the riverside of Mill Street, but few people venture a block up the hill to Commerce Street. "We do pick up people from T.G. Hair FX next door or the Pink Bicycle Tea Room, but most people don't even know that there are shops on this street anymore because it's mostly residential," said Debra.
She spoke of another challenge. While many of the longer established businesses refer customers to her, Debra, of course, would love to have new business. Most of her customers have patronized Spinaweb for years. They have a great relationship with Erna Gilker and keep coming back because they know the quality of the workmanship. "We sell no product because it is made by the handicapped; we sell products because they are beautifully hand woven." Debra also added that Spinaweb's quality is equal to or better than products sold in higher priced shops.
About three quarters of the yarn as well as the looms Spinaweb uses are donated. These donations come from both the Community and through the ARC.
Spinaweb is part of the Adult Vocational program of the ARC of Greater Prince William/Insight, Inc., a 501 (c)(3) organization that is committed to providing opportunities for persons with developmental disabilities to achieve their greatest potential for growth and independence. For more information about the ARC and it's programs, please see the ARC's website.
*****
Check out their web page or call them at 703-491-7422.
Spinaweb is open Monday through Friday from 9:00 am to 5:00 pm and Saturday from 10:00 am to 3:00 pm. Don't forget to tell your friends!
Now that I've discovered Spinaweb, I think some of my friends and family just might be getting a gift from there this year.
Spinaweb is located at:
305 Commerce Street, Occoquan, VA
Hours: Mon-Fri 9:00 am – 5:00 pm / Sat 10:00 am – 3:00 pm
Webmasters note: Kay is owner of Haunted Occoquan Tours in Historic Occoquan. Be sure to check out her website and learn more about the more spirited side of Historic Occoquan on one of her tours.
---
The Un Trim A Tree Holiday Gift Program is a very special program that serves children in need. Each year this program provides gifts to thousands of our children here in Prince William county. Volunteer Prince William partners with local churches, clubs and businesses to bring a brighter holiday season to the children of the county. In 2013 over 5,000 children were granted wishes through the Un Trim A Tree Holiday program.
Partnering with Volunteer Prince William, the Business Guild of Occoquan has launched this years program. Headed by merchant volunteer Betsy Merklein of Personally Yours this program focuses on providing Christmas presents to deserving children of our own Occoquan community.
Children make wishes for two presents each. Tags are prepared for each wish and hung on the Town Hall Christmas Tree and are available at Personally Yours. It's easy to spread a little extra joy this season. Grab a tag off the tree or stop by Personally Yours @ 308 Mill Street. Tags have all the instructions and information you need to complete the special wish. Return gifts unwrapped by December 10th and the Occoquan Business Guild does the rest. Then on Christmas morning think of that child opening your special present and smile knowing that you have made them very happy.
For additional information call Personally Yours, 703-494-8683.
---
Below are recent Wedding Wire Couple's Choice and Carlson Craft Distinguished Dealer Awards that have been awarded to Hawthorne House.